Do you want to be an HVAC Technician?
Learn more about this career by downloading the profile overview fact sheet and put what you've learned into practice with a hands-on activation.
About
HVAC technicians are hands-on professionals who specialize in servicing heating, ventilation, refrigeration, and air conditioning (HVAC) equipment for homes and businesses. As an HVAC technician for Trane Technologies, Earnell uses preventive maintenance and to ensure homes, commercial buildings, and vehicles receive the indoor climate solutions they need.
Evaluate Your Interest
Explore the profile to learn more about the skills students need to succeed in this career:
Do you get excited about learning new things?
Are you a strong communicator who can thrive in a collaborative environment?
Does fixing things bring you a sense of satisfaction?
Are you comfortable using math to solve problems on the job?
Activate Your Interests
Provide practical steps students can take in everyday life to pursue this career:
Build your math skills by focusing on STEM classes.
Practice your communication and teamwork skills during daily interactions.
Explore the possibilities and applications of 3D modeling software.
Investigate careers that specialize in engineering new products.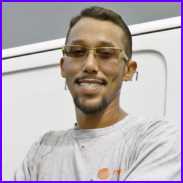 Don't be afraid to make any change in your life that you think will be positive, and you will succeed.
Earnell Newman
Trane Technologies
Additional Careers to explore
Go on the job with other Trane Technologies employees to discover how they apply essential STEM skills to solve real-world challenges. Check out the career video, then ignite student interest with a companion career profile and student activation.

Product Development Engineer
Bringing together people and processes
Find out how a product development engineer ensures quality products that adhere to industry standards by coordinating cross-team collaboration.
Learn More

Director of Innovation
Exploring new frontiers in indoor climate control
Meet a director of innovation who brings together the diverse perspective of team members around the world to discover new developments in HVAC technology.
Learn More